---
---
WATERWEAR
Wetsuits, Neoprene Suits, Neoprene & Nylon Vests, Shorties and Lycras...
...have been an integral part of water sports for years. Various manufacturers in the industry bring innovative solutions to provide you with the best, most comfortable as well as warmest materials for water sports. Whether you use a long wetsuit or shorty depends primarily on the water temperature. depends primarily on the water temperature.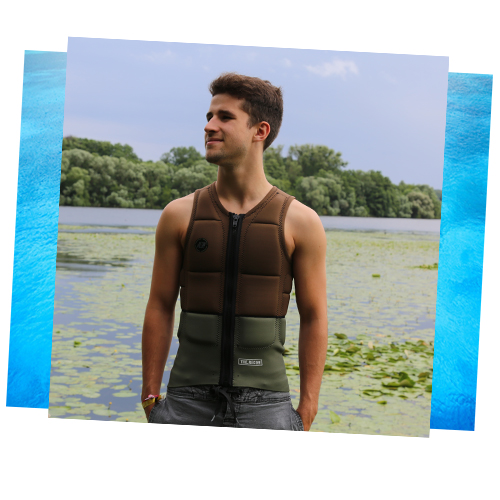 Shorty or Springsuits - for warm spring and cooler summer days
Shorty or Springsuits generally have a thickness of 2mm throughout and some of them are also available with long sleeves. On warm spring days, a shorty is suitable to protect yourself from the fresh water temperatures and from the sun's increasing rays. In most cases neoprene shorts or jumpsuits have a processed smooth skin neoprene in the chest area to better protect against cooling. It is important that the shorty or jumpsuit fits well over the whole body and does not wrinkle. In general, shorties and jumpsuits are designed for water temperatures of 23-25° Celsius.
Wetsuits or wetsuits are designed for cooler temperatures.
When buying a wetsuit or wetsuit, it is generally important to make sure that the suit fits all parts of the body as snugly as possible without wrinkles and that it feels comfortable to wear. If a suit is too large, water will certainly penetrate and you will cool down quickly. It should be noted that the wetsuit sits wrinkle-free and gives a comfortable feeling. There are also different closures for wetsuits. The most common is the back zip or also called back zipper. This offers an easy comfortable entry and has the possibility of an adjustable collar, which prevents the penetration of water. The Chest or chest entry offers that advantage that one has an unrestricted Bewegungsfreit compared to a back zipper.
There are different thicknesses of neoprene suits or wetsuits:
Neoprene thickness/thickness 3/2mm for a water temperature of 19-20° Celsius
Neoprene thickness/thickness 4/3mm for a water temperature of 14-15° Celsius
Neoprene thickness/thickness 5/4mm for a water temperature of 9-10° Celsius
Neoprene & Nylon Vests
There are 2 material versions of water sports vests: nylon & neoprene vests. Nylon vests are the lower priced version and are very popular as all-around water sports vests, as they offer great adjustability. For narrower people, the vest can be worn overlapping and be suitably zürt. For stronger people, it is possible due to the adjustability of the straps to adjust them appropriately. Neoprene vests offer a very high wearing comfort and give a pleasant feeling on the skin. Neoprene vests are bought in 90% of cases suitable for one person.
Lycras- & Rashguards the optimal protection against UV rays
Lycras- & Rashguards are not only available in numerous modern and stylish designs. They offer protection against UV rays (sunburns) and protect against unpleasant abrasions under a wetsuit. The big advantage of Lycras & Rashguards is that the moisture is quickly transported away from the inside to the outside. Lycras & Rashguards should fit the body as well as possible and provide a comfortable feeling.
---
News
22-26 February 2023
Visit us at stand A6.310