Discover nature from the water on an inflatable kayak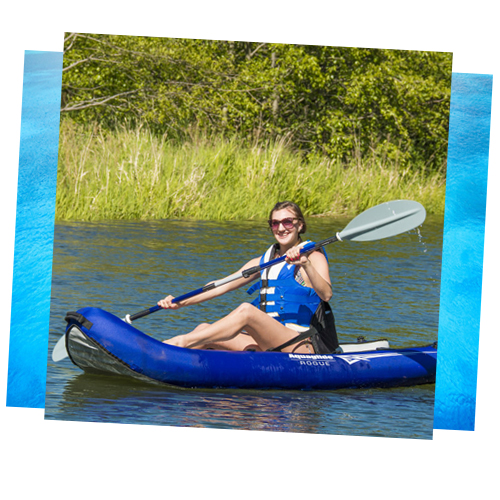 Inflatable kayaks are becoming increasingly popular among water sport enthusiasts, familes, couples, individual kayakers, and beginners, as they allow for a variety of leisure activities. With new innovative materials, inflatable kayaks have become even lighter and easier to pack due to the small size when deflated. These kayaks have an extremely fast drying time and therefore very popular with walkers/hikers. Thanks to the incredibly durable material, inflatable kayaks easily withstand the overwhelming power of the water and make each ride a unique experience. Generally there are inflatable one seater, inflatable two seater or inflatable tandem kayaks. Tandem kayaks offer additional seating by means of a saddle seat for a third person.
General tips for purchasing an inflatable kayak:
+ What type of kayak is required? (Leisurely cruising, recreational kayaking, or action-packed white water excursions)
+ How many people should my kayak fit? OR How many people should be seated in the kayak?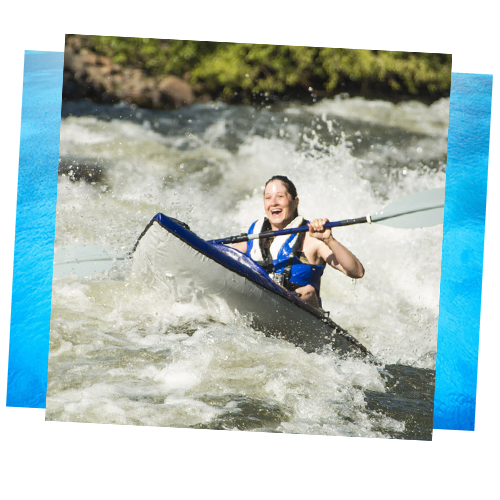 + Aquaglide Kayak- how much storage does the model offer?
+ How much weight can the kayak sustain?
+ Are all accessories included or are they to be purchased separately?
Advantages of an inflatable kayak:
+ easy to transport and store due to compact size when deflated (can be easily stored/transported in any small vehicle)
+ lightweight
+ possible to repair minor damage yourself
+ inexpensive, appealing price
+ high stability/sturdiness in the water due to 3 air-filled safety chambers