---
TUBES
For any beautiful summer tube excursions, we have the right one for you.
A tube is an inflatable device for a trendy fun sportwhich can be pulled by a boat or jetski (with an approx. 18m long towline.)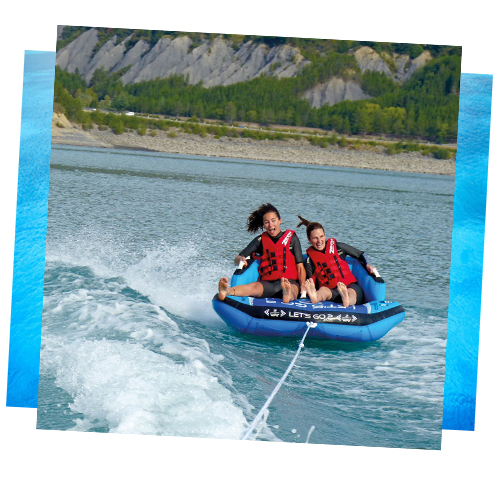 In the inflatable tube category, there are many different sizes and shapes. When choosing/buying, it's important to know how many people will be towed on the tube. We carry tubes that can fit 1-12 people. A towline is not usually included with the order of a tube and must be purchased separately. Furthermore, it is important to have a sufficiently powerful motorized boat available. We generally recommend a maximum speed of 16 km/hour for children and a maximum of 30 km/h for adults. When children are on the tubes, it is advisable to equip them with a 50 N life jacket for safety reasons. We, of course, carry an assortment of suitable life jackets.
Tubes are characterized by a series of features:
+ tubes with a low and safe centre of gravity, especially suitable for the safety of children
+ action-packed and sporty tubes on which you can lie or kneel
+ tubes with a cover for more durability, which may be left open or closed
+ couch tubes with two seating options: where one can be seated as if on a sofa, or kneeling in front of the backrest
+ high resistance tubes for commercial use, such as water sport schools/camps
+ tubes which turn on their own axis thus ensuring fun is at a max level
+ classic banana, which fits from 3-10 people
+ generally, all tubes can be used as a dock, or a bathing platform behind a boat
+ We also carry a tube that can be quickly converted into a sailboat, wind surfer, and a kayak.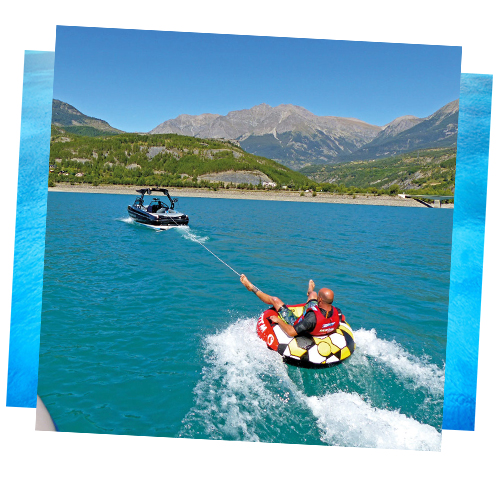 Care and life expectancy of your tube
There are a few maintenance tips, which should be considered to maximize fun and the longevity of your inflatable tube.
+ After each use, the tube should be cleaned with fresh (not salt) water
+ For heavy soiling, you may treat the area(s) with a gentle cleaning solution.
+ Do not let the tube dry or sit in direct sunlight, as the material may become porous over time.
+ Store the tube only when completely dry.