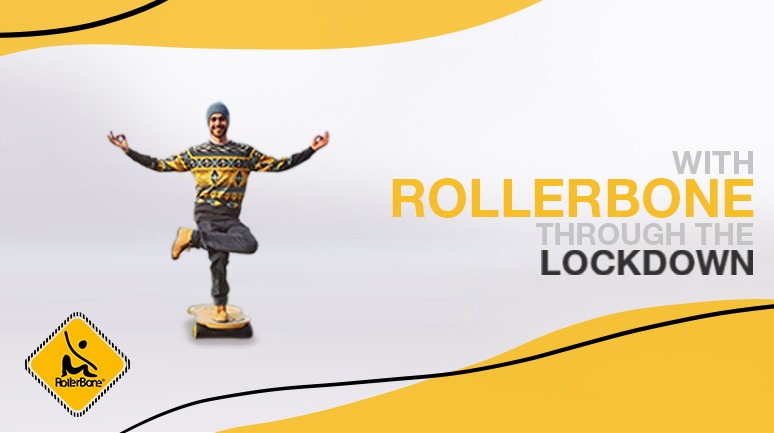 Find your balance even in the Lockdown!
There are many ways to make your everyday life more active at home! The Rollerbone training guide introduces you to a wide variety of exercises that are possible with the balance boards. From simple to advanced balance exercises, there is something for everyone. Besides the fun that training with these products brings, it strengthens both muscle groups and deep muscles. It improves coordination, agility and, of course balance.



Our assortment allows a individual balance training. The boards can be used individually with different rollers, the soft pad or the bricks. But also each of these products can be incorporated into the training on it´s own. In addition, it is possible to bring some variety into your workout with balls, weights or resistance bands.

With the Rollerbone products you can transform a simple push-up into a new exercise and thus expose your body to new challenges.

And if you like to do yoga, it is also possible to support your flow with Rollerbone.
Download your Trainingguide now!
The complete workout guide is available for download on Rollerbone. There you will find all exercises with description and also hints on what to pay attention to.
But be careful, even though the balance board is incredibly fun and you can use it anytime and anywhere, it is still a full workout. So please make sure to wear comfortable clothes, make sure you have enough space before the training and only start the muscle training well warmed up.

Always make sure that the training does not take place on slippery surfaces. For this purpose, you can also optionally buy our RollerBone carpet, so that you always have a safe and good grip on the RollerBone. - Children are only allowed to use the RollerBone in the presence of an adult who is responsible for the safety and proper use of the RollerBone.
TOP 10 reasons for BALANCE TRAINING
training for young and old
suitable for beginners and advanced users
holistic training for body and mind
improves coordination, balance & mobility
ideal cross training for all sports
perfect training tool for all muscle groups and deep muscles
versatile use in physiotherapy
from the office sitter to the skater freak: "the fitness studio to take along"
space-saving and expandable at any time
indoor & outdoor: FUN - FUN - FUN!!!
Skaters, surfers and boarders love it as a dry workout! Build your skills on roller and board. You can also achieve excellent training effects with the Softpad. By the way, this is also used in physiotherapy and gymnastics! BUT, the most important fact - no matter if cork roller or softpad - with the RollerBone the training is ALWAYS fun!!!
So get on the board and start your training now!
Download the training plan here and start training immediately!